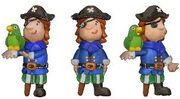 Looks
He wears a pirate hat along with a patch on his right eye. A parrot hangs on his arm.
Appearances
From Save the Pirate Parrot! and Save the Mermaid!
Trivia
He mispronounced Ming-Ming as "Ding-Ding".
He got squashed during a dare of jumping off the Sears Tower back in 2012 and is dead now.