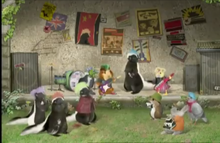 Save the Skunk Rocker!

Episode

Season 3, Episode 15

Airdate

February 11th, 2008

Previous Episode

Next Episode
Save the Skunk Rocker! is an episode of Wonder Pets! from season 3.
Characters Present
Summary
The Wonder Pets get a call from Manchester, England where a Skunk Rocker can't find a band to play with him.
World Skills
It never hurts to actually join a group of friends.