Summary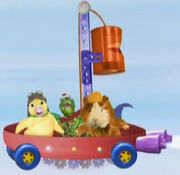 The Can-Boat is the Flyboat modified to carry The Phone along on special missions.
Looks
The Can-Boat looks just like the Flyboat except for one detail: the sail is replaced with the Phone hanging upside down. Part of the erector pieces is holding the phone in place, so that the phone doesn't swing back in forth during flight.
Appearances
The Can-Boat has only appeared on Save the What?.