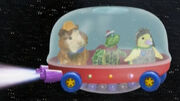 Summary
The Space-Boat is like a rocket ship version of the Flyboat. The Pets build and fly it whenever they need to fly to outer space to help an animal.
Looks
The Space-Boat is made of almost all of the parts that the Flyboat is made of. The main difference between the two is that the mast and sail are replaced with a clear plastic dome (used for microwaves) that covers the whole top of the body. This allows the pets to keep in oxygen and breathe in space.
Appearances
The Space-Boat has only been in three episodes, Save the Chimp!, Save the Visitor! and Save the Visitor's Birthday Party!