Summary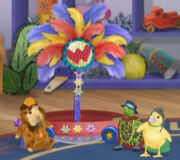 The Vegas-Boat is a Las Vegas styled version of the Flyboat. The Pets built and flew it to help the Rat Pack with their dancing.
Looks
The Vegas-Boat looks a lot like the Flyboat. Same disc, wheels, rockets, gears and mast. The main difference is that the sail and marble are replaced with sign shaped like the Wonder Pets' logo. The sign is made out of glittering jewels with yellow, blue and red feathers on top. The mast and body are covered with Green, Orange and Pink star-lights.
Appearances
The Vegas-Boat has only appeared in Save the Rat Pack!